Joel Gilbert, Pastor
Though originally from California, Pastor Joel has called Maryland his home since the early 1980's and has called Poolesville Baptist his church home since April 2019.  He has a Music Composition degree from Taylor University and an Mdiv in Pastoral Ministry from Liberty.  Joel has served as a Pastor here in Montgomery County for over 20 years.
 Joel and his wife Danielle met in high school and got married in 1994.  They have three kids – Zack (1998), Melody (2000), and Zoe (2007).  When not involved in church activities, you'll find the Gilberts participating in school events at Washington Christian, traveling or enjoying a movie together.
Email Joel: pastor@poolesvillebaptist.com
Armal Porodini, Associate Pastor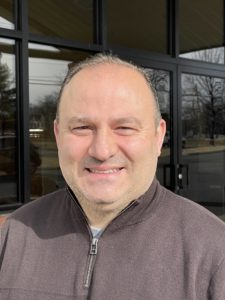 Pastor Armal [pronounced: Ehr-mal] was born in the country of Albania and came to the United States at the age of 17.  Upon finishing high school in Oregon, he moved to Maryland and attended Washington Bible College in the late 90's.  While attending college, he participated in collegiate sports, sports ministry and various outreach ministries such as Good News Club, Open Air Campaigners and Fellowship of Christian Athletes.  After graduating from college, Armal worked as a Christian educator and coach at Montrose Christian school.  In 2011, he transitioned to a different ministry and served as a Children's pastor in Rockville.  In 2016, he married his lovely wife Sunita.  In February 2022, the Porodini family joined Poolesville Baptist Church.  Armal has served the Lord for 23 years and is currently serving as Associate Pastor at PBC.  His desire is to reach youth of all ages with the Good News of the Gospel and train young people to be disciples of Jesus.  Outside of church activities, he enjoys spending time with family, playing sports, refereeing, tasting variety of good food and traveling with his wife.
Email Armal: armal@poolesvillebaptist.com