The men's ministry of PBC varies from season to season.  At times, we have had monthly Saturday breakfasts with men from Hosanna Community Church.  At other times, we have enjoyed fun outings and retreats.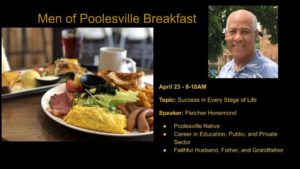 Men's Breakfast – April 23 – 8AM
The men of PBC and Poolesville are gathering for a time of fellowship, food, and worship.  During this time, Fletcher Honemond will talk about Success in Every Stage of Life.  This is available to all men in the area and their sons.  We hope to make this a regular/quarterly event.  Click here to register.
Mission Team to New Bedford, MA – August 20-27, 2022
This summer, several skilled and unskilled men from PBC are planning on heading to New Bedford to help Grace Harbor Church prepare a building they own for ministry.  If you're interested in going, please contact Pastor Joel.