Author: Rebecca McLaughlin
Review by: Joel Gilbert
Have you ever been faced with a difficult question about your faith?  Have you wondered if there is any way to respond to questions without sounding foolish or driving your friend away?
Being a person who likes to listen, I am sometimes slow to process things in order to have an appropriate response. I don't feel like I always have the right answers until days after the conversation.
Dr. Rebecca McLaughlin, a frequent speaker with The Gospel Coalition, thoughtfully reflects on some of the most difficult questions and objections to Christianity.  She uses Scripture, logic,  statistics, philosophical arguments, and personal encounters to reflect on twelve questions that Christians may face.  These questions include: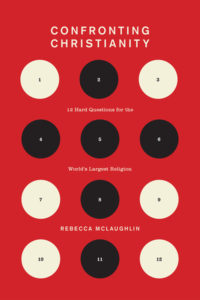 Aren't we better off without Religion?
Doesn't Christianity crush diversity?
How can you say there's only one true faith?
Doesn't religion hinder morality?
Doesn't religion cause violence?
How can you take the Bible literally?
Hasn't science disproved Christianity?
Doesn't Christianity denigrate women?
Isn't Christianity homophobic?
Doesn't the Bible condone slavery?
How could a loving God allow so much suffering?
How could a loving God send people to hell?
The book is thoughtfully written, but it is not a quick-pick kind of read.  Reading the book will take time to process and reflect on the underlying premises behind the questions.  I found myself surprised at the directions she took in some of her responses.  For example, in chapter 9, she used her own struggle with same sex-attraction as a teenager and young adult.  I know from conversations with some individuals that some in the LGBTQ community will balk at the "same sex-attraction" language.  She did not identify as a Lesbian, but rather as a woman who was interested in women, who yielded that desire to Scripture's clear boundaries (she is now married to a man and they three children).  She does talk beautifully how in a Christian, heterosexual marriage we get a picture of what intimacy with Christ can be like.  She states,
"…just as God created parenthood to show us how he loves his children, so he created sex and marriage to give us a glimpse of what it means to be united to Christ."
I did not always agree with her arguments, but I certainly did find them informative, challenging and helpful.  Overall, I found the book well worth the read and look forward to referring to it time and again.
We have a copy of the book in the Book Nook at church.  You can also order one here: https://us.10ofthose.com/poolesvillebaptist/. 
If you choose to read it, I'd love to hear your thoughts.  Feel free to send me an email at pastor@poolesvillebaptist.com.
Categories: Book Review